Holtey Transitional Jointer Plane – 2
As there have been comments about this dovetailed jointing system I realised that I should show the pictures of the dovetailing in progress.
There are a few who know the dovetail puzzle of using a cube made up of two contrasting woods showing one dovetail on each side. In the case of a square object you cut the angle of 45 deg for the path of the dovetails (two) so that the joint slides into position with this angle, which gives an even sized dovetail on all four sides.
Once you start altering the dimensions and the number of dovetails then it becomes complicated. If it was not for my CNC it would be a nightmare.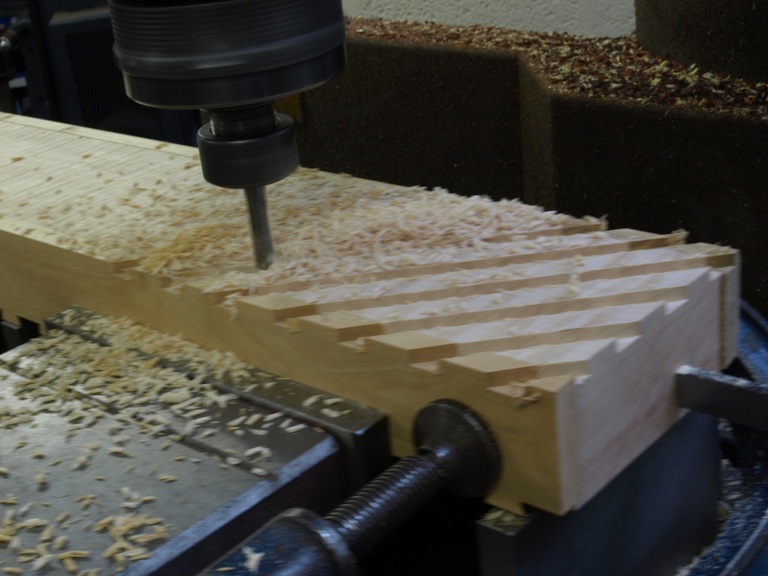 The first cut for the dovetailing is done with a plain cutter so that I can reduce the mileage on the dovetail cutter.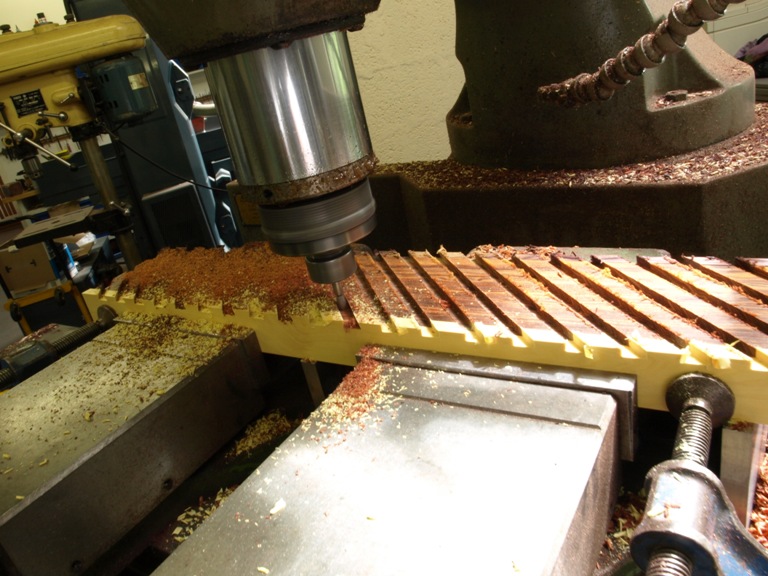 With the grooving complete I can then follow through with the dovetail form cutter (tungsten carbide as on all my tools).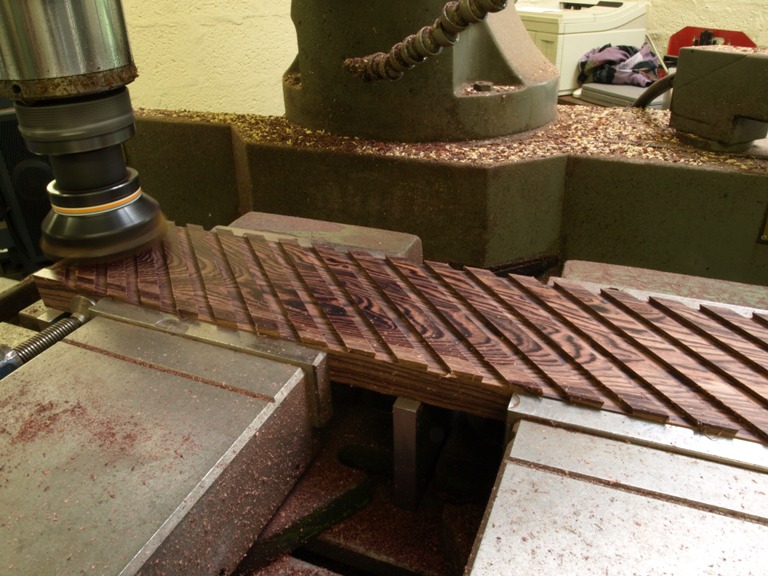 The depth of the dovetails has allowed for a final skim over the top to guarantee a uniform depth and also gives a neater finish.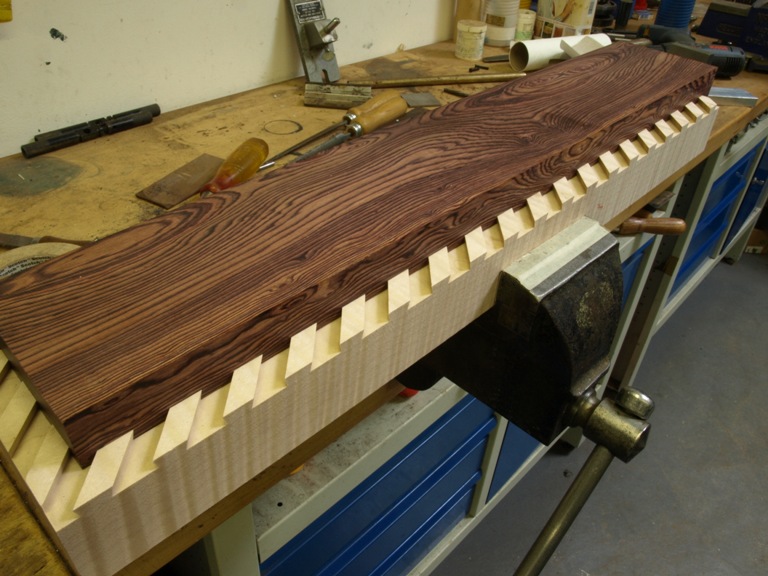 The exciting stage – sliding the dovetails together.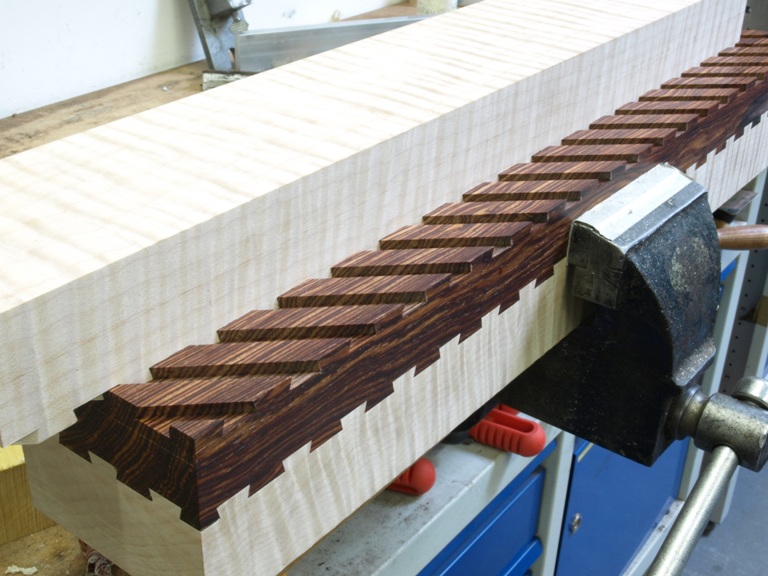 You will notice that some of the bottoms are to be cut to make two bottoms after they have been jointed and glued on both sides.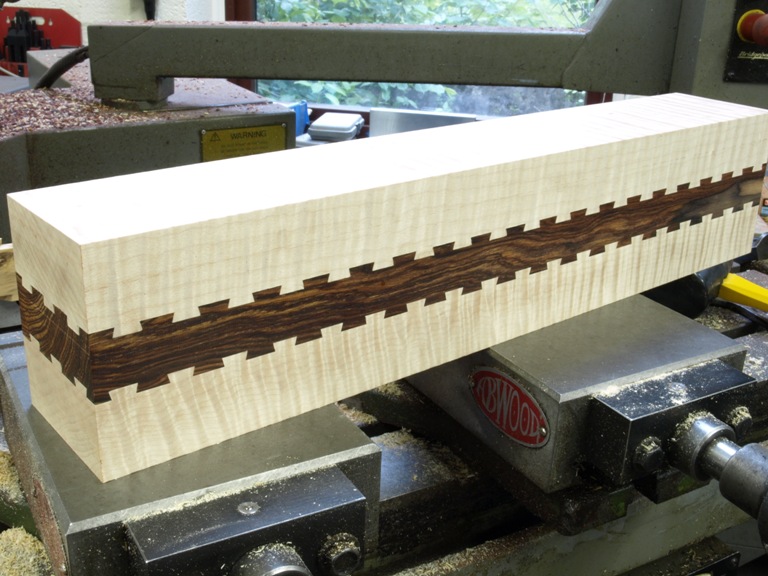 This is two bottoms waiting to be glued. The gluing is not so much for adhesion but in this application it is mechanical. The only way to undo this joint is by sliding so once the glue has hardened it becomes keyed to the texture of the wood. The dovetailing is a quantum leap from tongue and grooving used by other manufacturers.
For the gluing I have used polyurethane with an open time of at least half an hour – well that is what they say on the tin. In real life the comfort time is less than 5 mins. So preparation and rehearsal is necessary. I use the polyurethane so that I don't introduce any more moisture into the wood. Also it expands so taking up any voids. I have a loose fit of 8 thou so that the joints are reasonably easy to slide together and still have a small glue line.
It is extremely important that the gluing should be done soon after the dovetailing because wood is unstable and it can fit today and not tomorrow.